Managing Sexual Harassment in the Workplace: The PowerShift Case Competition 2019
#BeHER_d: Raise Your Voice for Gender Equality
Thursday, February 28th, 2019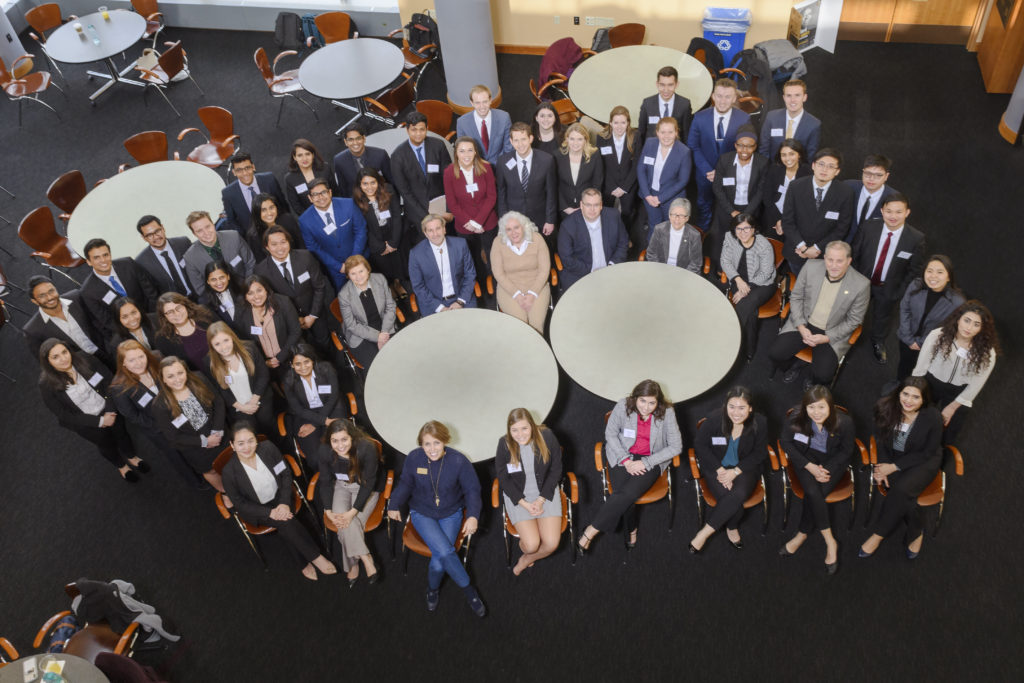 By: Hannah Harper
Current events and simulation met to create the perfect storm of creativity and innovation on February 8, 2019 for the third annual PowerShift Case Competition, a case competition that uniquely focuses on gender and women in management. This year, the case involved an incident of sexual harassment in the workplace, and participants presented their best advice for how a manager should properly handle a claim of that nature.
Current Problems, Meet Future Solutions
With the viral success of movements like #MeToo and #TimesUp and the increased prosecution of sexual harassment cases in recent years, the topic is one that many of these future managers will be sure to encounter as they enter the business world. The PowerShift Case Competition, hosted by the Brock-Wilson Center for Women in Management at Purdue University, gives these students the opportunity to think critically about these issues and address solutions in a controlled environment before they begin their careers. Past competition topics include pay equity and gender in the legal field.
"There aren't many case competitions that focus on gender in the workplace, which is why the PowerShift Case Competition is unique," said Candi Lange, director of the Brock-Wilson Center for Women in Management. "The Brock-Wilson Center sees these competitions as a way to expose students to gender obstacles at work so they will be able to successfully navigate them in their careers."
As part of the #BeHER_d: Raise Your Voice for Gender Equality campaign, the Brock-Wilson Center hosted Alessandra Rosa, a trial attorney for the U.S. Equal Employment Opportunity Commission (EEOC) in Indianapolis, who spoke about how cases of workplace sexual harassment are prosecuted. After the presentation, the final three teams presented their recommendations to an audience in the Krannert School of Management's auditorium.
2019 PowerShift Case Competition Winners
First Place: Ion Consulting: Michael Kipp, Julianne Hughes, Xavier Nienaber, Caleigh Tiley
Second Place: TimesUp: Tanvi Ralhan, Maria Hartas, Julia Sutton, Morgan Ellis
Third Place: Ace Consulting: Ruilin Liu, Ruoxi Zhang, Nan Ma, Dongyu Dai, Shangjing Tang
Thank You to Our Sponsors
The Brock-Wilson Center would like to thank the 2019 judges and sponsors: Mike Courtney (Accenture, sponsor), Missy Phillips (ArcelorMittal, sponsor), Bill Muzzillo (GM, sponsor), Phillips 66 (sponsor), Sandy Haas (Krannert alumna), Kathryn Nielsen (Krannert alumna), Meara Habashi (Faculty, Krannert School of Management), Charlene Sullivan (Faculty, Krannert School of Management), Mick La Lopa (Faculty, College of Health and Human Sciences), Cara Putman (Faculty, Krannert School of Management), Kelly Blanchard (Faculty, Krannert School of Management), and Amy David (Faculty, Krannert School of Management).
Gender Empowerment, Gender in the Workplace, Sexual Harassment, Sexual Harassment in the Workplace, Women in Management
---