Men as Allies: Preparing future business professionals to lead gender-diverse teams
Friday, April 26th, 2019
By: Jonathan Santeliz
Launch
Toward the end of July, I received an email from the student services office from the Krannert School of Management MBA program with details about my graduate assistantship (GA). The email explained that I would be working with the Brock-Wilson Center for Women in Management. Immediately, I wondered how I, as a man, could contribute to the work of the center. During my first meeting with my GA director, Mrs. Candice (Candi) Lange, in late August, I was introduced to the center, and I was presented with my GA project, which entailed launching a Men as Allies initiative. She felt that it was essential that future business managers become aware of relevant gender issues in the workplace and begin developing the know-how to resolve them. After that meeting, my assignment made a lot more sense, and I was eager to get started.
I was given some resources and contacts to begin my research and to develop a plan for how the Men As Allies initiative would take form. Fortunately, other campuses across the country had been implementing Men As Allies or Manbassador programs on their campuses. Organizations like Forte Foundation and MBAallies.com provided guidance, support, and best practices on how to get the ball rolling. One of the recommendations was to recruit a female MBA student who could serve as co-chair of the initiative, so I pitched it to fellow MBA colleague and Purdue's Society of Human Resource Management (SHRM) Club President, Ms. Chanda Foucher, and she accepted the task.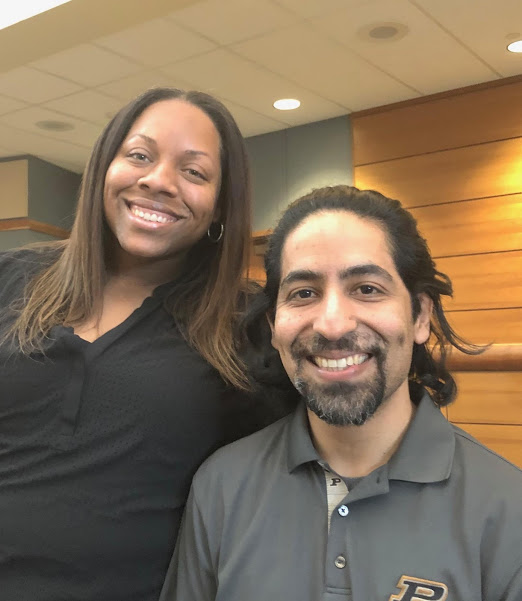 I laid out a plan for a series of events and collaboration with other Krannert graduate school clubs and student government, Candi and Chanda provided some input, and then on Oct. 31, I announced our launch at an evening social hosted by the Graduate Women in Business club. The launch attracted over fifteen mostly male MBA and MS students who signed up to be part of the initiative.
After the launch, we hosted a callout event to present the initiative in more detail and to give everyone a taste of the research-to-practice approach we would take toward discussing various gender workplace issues. We used a number of MBAallies.com's newsletters to spur the dialogue on topics such as bystander effect, covering, office housework, and the confidence gap (to learn more about these topics, please visit www.mbaallies.com). The discussions helped us reflect on gender roles and how men could better support our female colleagues.
Collaboration
The first half of the spring semester was filled with collaborative projects. We worked alongside other diversity student clubs and Krannert Graduate Student Association (KGSA) to organize and promote the first ever Spectrum events. The mission was to improve Krannert graduate students' awareness, knowledge, and tools to manage diversity and inclusion. The two key events titled Awkward Conversations dealt with issues of identity, respective gender roles and stereotypes, and the importance of allyship. Men as Allies was invited to present at the Women in Business Monarch Leadership Conference. More than 30 attendees learned about the initiative and participated in a number of scenarios focusing on subjects like mansplaining, giving credit, and bystander effect. In February, Candi and I facilitated a dialogue with prospective female MBA and MS students at Krannert's Women in Business Weekend.
Practice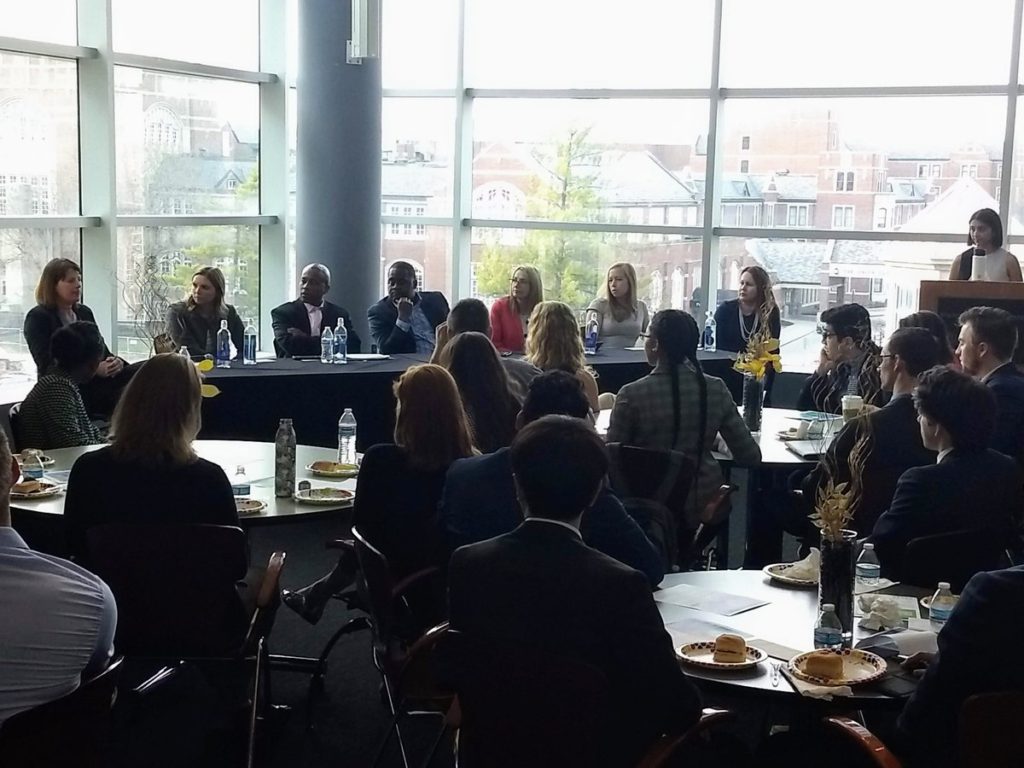 On March 27, Men as Allies partnered with the Women in Business club once again to promote a panel discussion highlighting financial services opportunities for women. The event focused on diversity, inclusion, and men as allies strategies implemented at J.P. Morgan. A diverse panel of executives, vice presidents, and associates gave examples of concrete actions taken by the bank to combat implicit bias and promote dialogue and understanding among various employee resource groups. Male allies spoke on sponsorship and mentorship of female employees. Everyone on the panel encouraged women to refrain from self-selecting themselves out of a job; instead, they urged women to compete for positions even if they do not meet every preferred qualification. After the panel discussion, Men as Allies members were able to ask questions and to network with the panelists. The event was very insightful, and it was great to hear that diversity and inclusion and men as allies initiatives are a priority.
At the core of the Men as Allies initiative is the research-to-practice approach applied by the Brock-Wilson Center for Women in Management. Through that approach, we aim to continue to increase awareness, build on collaborative partnerships, and welcome more allies when the new MBA cohort arrives in August. We hope that through these efforts, we will be better prepared to lead and bring about change in a post #MeToo world.
Jonathan Santeliz is a 2020 MBA Candidate in the Krannert School of Management at Purdue University. Before pursuing an MBA, he was Executive Director of the HACU National Internship Program. He was also a former Peace Corps volunteer (Morocco 08-10) who served as a small business development consultant for women-owned textile cooperatives and social outreach NGOs. He is a Boilermaker through and through, an avid salsa dancer and a big time foodie.
For more information about the Men as Allies initiative, please email Jonathan at santeliz@purdue.edu.
---